Radon Testing and Radon Remediation in Berks County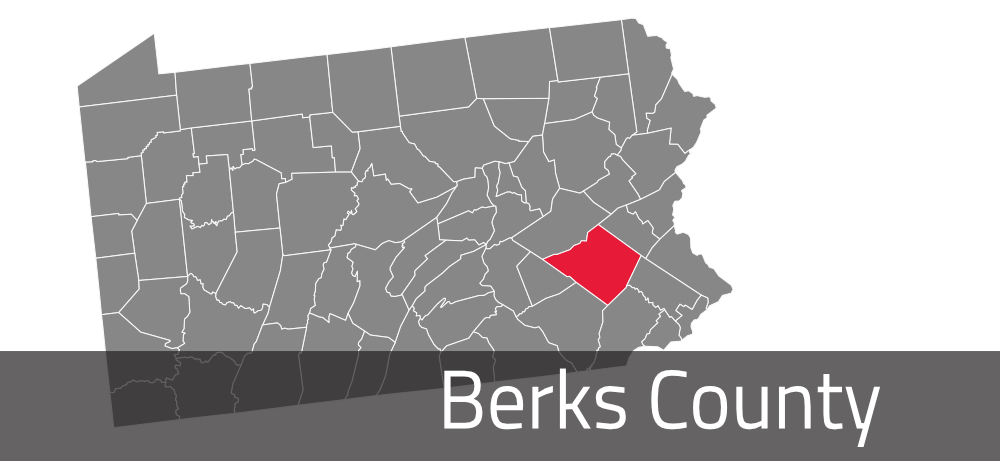 Berks County
Berks County, Pennsylvania nestled west of Philadelphia, may be a small county but has a rich local culture that has been around since 1752. The largest city, Reading, is located in the center of Berks County and surrounded by Kutztown, Morgantown, Douglassville, Strausstown and Bethel. The Schuylkill River runs through the center of Berks County and splits into two lakes: Blue Marsh Lake and Ontelaunee Lake. Reading is the main attraction of the county, with attractions including the GoggleWorks Center of the Arts, which houses the galleries of local creative artists, and The Pagoda, a popular tourist attraction inspired by Asian architecture that provides a spectacular view of the town from the top of Mt. Penn. Reading is the metropolis of Berks County, but is surrounded by beautiful farmland and forests.
Radon Testing and Radon Remediation in Berks County
Radon can threaten the natural environment by creeping into the house, affecting the air quality and family health. This danger makes radon testing and inspection in Berks County important to homeowners; both for the sake of their family's health, and for the health of the community at large.
Radon remediation is recommended for homeowners who want to ensure that their homes are safe. The process of radon remediation cleanses the home of radon gas, and helps prevent the possibility of re-entry into Berks County homes. Full-service radon remediation experts perform tests and work to restore affected homes. Failing to test for radon gas can result in health risks, such as lung cancer, from breathing in the toxic fumes. Radon could endanger residents in Berks County without consistent radon testing and remediation in Berks County homes and other properties. Berks County residents can help avoid threats to their health by hiring a radon inspection service to manage the high radon levels constantly underground in Pennsylvania.
Call Our Radon Experts in Berks County
Contact Radon-Rid, LLC for radon gas testing and remediation in your home or business in Berks County. We service the following cities and towns.
Radon Mohnton, PA 19540
Radon Temple, PA, 19560
Radon Reading, PA 19602
Radon Reading, PA 19604
Radon Reading, PA 19606
Radon Reading, PA 19607
Radon Reading, PA 19608
Radon Reading, PA 19609
Radon Reading, PA 19610
Radon Reading, PA 19611
---
Mailing Address:
693 Egypt Road
Phoenixville, PA 19460
Phone Number:
(610) 222-2273
Services:
---
We Want to Help
"(required)" indicates required fields