Radon remediation cost depends on the methods employed and may vary from contractor to contractor. Effective radon remediation requires technical knowledge, years of experience and technical skills. It is important to make an informed decision when considering a radon reduction contractor.
The certified specialists at Radon-Rid, LLC make use of multiple systems based on your home's type of construction and find the most effective method for your home. The most common systems include sub-slab depressurization (most common method) and sub-membrane ventilation. During our initial visit, we can assess which system is best for your home and discuss the radon remediation costs.
Radon-Rid, LLC focuses primarily on customer safety and satisfaction and encourages customers to look no further when considering a radon remediation contractor. The customers come first, and Radon-Rid is willing to provide local referrals from other homeowners who have hired our services for radon testing and remediation.
Radon Remediation Solutions – Prevention and Removal
Radon in the soil enters the indoors through the differential between the low air pressure in the house and the high air pressure in the soil. This divides radon reduction into two categories:
The prevention of entry of radon gas into the home (most effective)
The attempt to remove the radon gas once entered the home
Your home's construction affects overall radon remediation cost and the system for a solution. During the first visit, we assess the best system strategy according to your home. The most common method of radon remediation is sub-slab depressurization, the other less common is sub-membrane ventilation.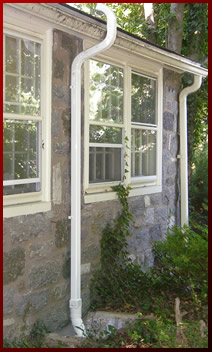 Radon Mediation Methods at a Glance
Sub-Slab Depressurization
Sub-Slab Depressurization (or Sub-Slab Suction) is a radon remediation method that removes radon-laden air from beneath the foundation and vents the radon gas outside the home by installing a fan inserting a pipe through the foundation into the aggregate below, running it outside the house. For a visual diagram of sub-slab depressurization, click on either the External orattic configuration.
Sub-Membrane Ventilation
Sub-Membrane Ventilation (or depressurization) is similar to sub-slab depressurization, but is most effective at removing radon in buildings with earth-floored crawlspaces or basements, and uses a plastic barrier over the soil as a collection cover. For a visual diagram of sub-membrane ventilation, click on the Sub-Membrane configuration.
Block Wall Suction
Block Wall Suction is a depressurization technique that prevents radon from reentering the home. Block wall suction uses a fan and ductwork to draw suction on the hollow interior cavities of a concrete block wall by keeping the air pressure within the block wall lower than the air pressure in the basement, and the soil gas is removed before it can enter the basement. For a visual diagram of block wall suction, click on the Block Wall Suction configuration.