Radon Remediation Methods at a Glance
Sub-Slab Depressurization
Sub-Slab Depressurization (or Sub-Slab Suction) is a radon remediation method that removes radon-laden air from beneath the foundation and vents the radon gas outside the home. This method works by installing a fan and inserting a pipe through the foundation into the aggregate below. The air can be vented to the outside of the house via an external set up or through an attic configuration. For a visual diagram of sub-slab depressurization, click on either the External or Attic configuration.
Two types of sub-slab depressurization are often used: active (ASSD) and passive (PSSD). The passive method works in the same basic way as the passive, however no fans are used. The system utilizes pressure differentials and natural air flow to vent the radon gas. The active system is considered more effective and is more common. Often passive systems are built into new homes as a preventive measure. These passive systems can be converted at a cost.
Sub-Membrane Ventilation
Sub-Membrane Ventilation (or depressurization) is similar to sub-slab depressurization, but is most effective at removing radon in buildings with earth-floored crawlspaces or basements, and uses a high-density polyethylene sheet barrier over the soil as a collection cover. A pipe or drain mat is inserted, along with a fan. The resulting "vacuum" allows the removal of the radon gas to the outdoors. For a visual diagram of sub-membrane ventilation, click on the Sub-Membrane configuration.
Block Wall Suction
Block Wall Suction is a depressurization technique used on homes with hollow foundation walls. This type of system prevents radon from reentering the home. Block wall suction uses a fan and ductwork to draw suction on the hollow interior cavities of a concrete block wall. The method works by keeping the air pressure within the block wall lower than the air pressure in the basement, working to draw radon gas from the soil to be removed before it can enter the basement. For a visual diagram of block wall suction, click on the Block Wall Suction configuration.
What Can Homeowners Do About Radon?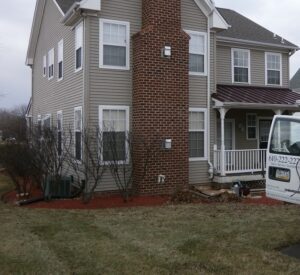 When trying to determine the levels of radon in a home, homeowners may be confused by conflicting test results. Weather can play a role when performing radon testing, so if you are performing a short-term test, which is common, you should avoid doing so during stormy weather.
Sealing can be an important element of radon remediation. In new homes, where settling is still occurring, sealing may need to be done each year to prevent degradation of the seals.
Ventilating your home can help reduce indoor air radon levels temporarily, once you find that you have above acceptable levels of the gas in your home. This solution is just a short term fix, however, as the resulting radon levels may still be too high, and you will likely be unable to continue keeping the open doors and windows through all seasons.
Trust Radon-Rid, LLC for Expert Radon Remediation and Testing
Radon is colorless, odorless, and tasteless gas that is undetectable except through testing. However, exposure to this invisible gas is the second leading cause of lung cancer, so if the gas is present in elevated levels (above 4.0 pCi/L according to the Environmental Protection Agency), remediation is vital for the safety of homeowners and their families.
Radon-Rid, LLC focuses primarily on customer safety and satisfaction and encourages customers to look no further when considering a radon expert. The customers come first, and Radon-Rid, LLC is willing to provide local referrals from other homeowners who have hired our services for radon testing, inspection and remediation. Contact us today to set up a consultation and learn how to protect your home from radon.